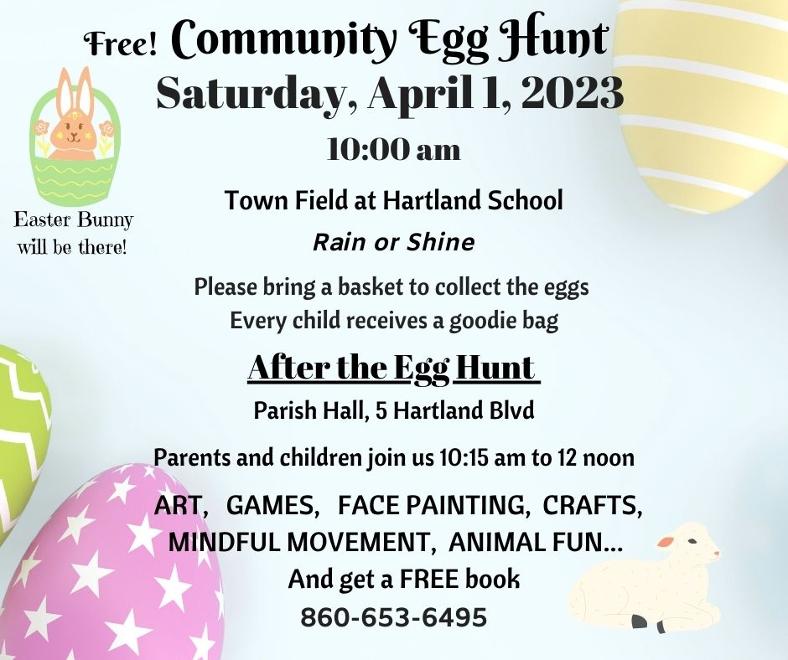 Community Activities and Outreach
The Lions Club meets on the second Monday of the month at 7:00 pm in the Parish Hall Fellowship room.
Please check with Diana Evans for all dates.
Next Women's Gathering is Wednesday, March 22 at 9:45 am
Women meet on the 2nd and 4th Wednesday of the month in the Parish Hall. This is a community event, all are welcome! Coffee, tea and conversation.
Monthly Community Lunch
Monday, March 13, 2023 from 12:00 noon - 1:00 p.m.
March is a catered luncheon. The event is full. Please come in April for soup and sandwich.
*On the second Monday of the month (unless otherwise noted*) First Church in Hartland holds a luncheon in the Parish Hall Fellowship Room. This is a FREE community event. Everyone is welcome!
If you can volunteer, please call the church.
Menu includes a variety of soups, breads, or sandwiches, beverages and desserts. Occasional catered lunches are offered.
Blood Pressure Clinic screening by a nurse from the Farmington Valley Visiting Nurse Assoc.
Men's Coffee (O.M.K.K.)
Meets the first and third Wednesday at 10:00 am in the Parish Hall Fellowship room.
YOGA
Tuesday classes, please register through UBINDI.
Contact Kristal for more info.
Tuesday - IN PERSON class at 6:30 pm - set up 10 min. before class (Kristal and Ann alternate weeks)
Kristal Fiorentino, Internationally Certified Yoga Therapist and Life coach, her expertise lies in being able to decode the body's physical language, helping clients to uncover the root cause of disease in the body and mind.
Ann Brieck, RYT 200, certified in Yoga for Osteoporosis & Yin Yoga - she has a deep understanding of anatomy and alignment; integrating body mechanics, breathing and philosophy.
Information Contact: kristal@kristalfiorentino.com
Thursday's (class time to T.B.D. in 2023)
Doug Dunn (RYT 500) teaches at 10:00am in the Parish Hall. He is an alignment based teacher. His precise alignment techniques presented in a warm, relatable style, keeps students safe. Chairs can be used for anyone needing to stay off the floor.
YOUR First class with any instructor is FREE! Come and try it, bring a friend!
2023Alcoholics Anonymous - Parish Hall, Fellowship Room
Closed Step Meetings are held on Wednesdays at 7:30 pm
and
Open Discussion Meetings are on Fridays at 8:00 pm
Virtual: Zoom access info for both is: Mtg #: 812-5331-8823 and password: AA